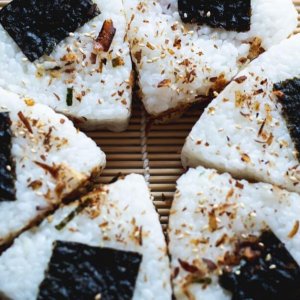 Myulchu Korean Anchovies Onigiri
Onigiri is a triangle shaped sushi wrapped in Japanese seaweed. Onigiri is my favourite food to pack for work lunch, road trips and picnic. You can actually make onigiri a day in advance and just pack them in your bento lunch before leaving home! I like my onigiri with myulchi bokkeum (Korean crispy anchovies) as the crunchiness of the anchovies goes very well as an onigiri filling!
Ingredients
2

cups

Shortgrain Rice

rinsed and washed

2 ¼

cups

Water
Sushi Mix
4

tbsp

Sushi Rice Vinegar

2

tbsp

Sugar

1

tsp

Salt
Onigiri
100

grams

Myulchi Bokkeum

Korean Spicy Anchovies

1

tsp

Toasted Sesame Seeds
Instructions
Rinse the rice for 2-3 times until water is clear.

After the rice is rinsed, let the rice drain in a colander or strainer for 10mins.

After the rice has drained, put the rice in the rice cooker with water to cook.

While rice is cooking, prepare the vinegar mixture. In a small saucepan over medium heat, combine rice vinegar, sugar, and salt. Heat mixture just until the sugar dissolves (do not let it boil). Remove from heat and let cool to room temperature.

When the rice is done cooking, gently spread out the rice on a big plate.

Evenly distribute the cooled vinegar mixture over the rice. Gently turn rice over from time to time with rice paddle or wooden spatula so that rice cools evenly. Set aside for use.
Wrapping Onigiri
Place 120g of rice on a plastic wrap, place about 1 tbsp myulchi bokkeum in the centre, and place another 2 tbsp of rice over the filling to cover up.

Then form it into a triangle by pressing it lightly between your first and second finger. Compress the rice ball firmly using the cling wrap before unwrapping.

Sprinkle some sesame seeds over the rice ball.

Using a sheet of nori seaweed, wrap up your rice ball.
Notes
You can use any fillings of your choice. 
Make sure you don't overstuffed the fillings 
You may also enjoy these Recipes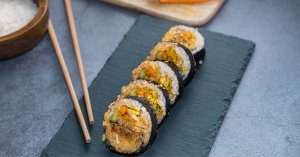 Gimbap is a korean style sushi roll where gim means seaweed and bap means rice. It is very different from the Japanese sushi because Gimbap uses only sesame oil and salt to season its rice while Japanese sushi uses sugar, salt and vingar.
Read More »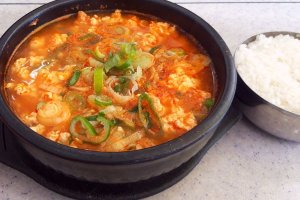 Soondubu Jjigae is one of the easiest Korean dish to make at home. All you need to do is to throw all the ingredients in the stone pot and let it simmer. It is a popular dish in Korea and the essence to making a good tofu stew is using quality soy bean paste and red pepper paste.
Read More »
Over 30,000+ Participants have enjoyed our Cooking Classes in Singapore! Join us at D'Open Kitchen & have fun right away!
Cooking Classes Singapore